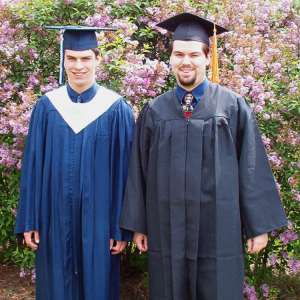 Graduation!
I graduated from Iowa State University in Spring 2003 with a Bachelor of Science degree in Computer Engineering, and have taken a position with John Deere Engine works.
I will be working in the FOCUS group on developer tools and support software (and anything else I get assigned to I suppose). Not so different than doing any project that got assigned, but I get paid now. That's an improvement :-)
I'm on the right, my brother (who is also a graduate this spring, from Hudson High School) is on the left. My dad should have been in the picture, but he didn't graduate (yet). If you wish to hassle him creatively, send it to me and I'll see that he gets it. Before you send me spam instead of creative humor, make sure you don't wish to be part of the recommended donation.