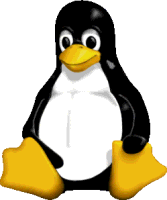 Linux
Since Linux, the operating system kernel underlying many Free software environments, has become the poster child of Free software in general, I suppose I should mention that I do have some small bits of code in the kernel. Mostly, I've done various small bugfixes; in one small moment of glory it was an noticeable feature. This code is related to my work on KDE and is in the Linux/PPC soundcard drivers for apple's sound hardware.
For many advanced audio applications, is is desireable to continue to perform other operations while the soundcard processes its current data. The KDE analog realtime synthesizer (aRts) requies this functionality. I implemented the poll() routines needed for these nonblocking sound operations and I got mentioned in the kernel changelog. Whee!
Personally, I think it's the cute penguin that attracts people to the linux kernel itself. Most of the code users see lives outside the kernel.
"Some people have told me they don't think a fat penguin really embodies the grace of Linux, which just tells me they have never seen a angry penguin charging at them in excess of 100mph. They'd be a lot more careful about what they say if they had." -- Linus Torvalds